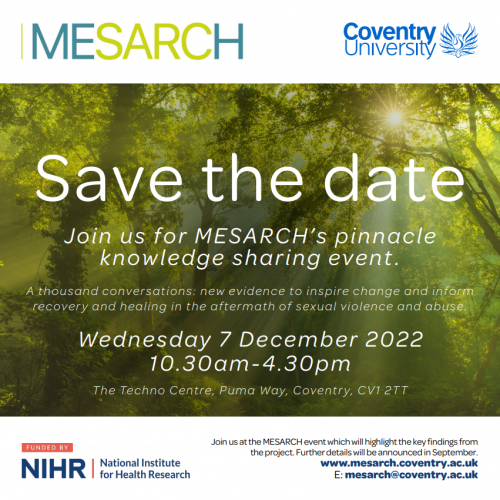 Coventry University campaign highlights the issue of abuse in young people's relationships
A powerful video campaign highlighting the role we can all play in helping to prevent sexual and domestic violence and abuse has been created by researchers at Coventry University.
With funding from Coventry City of Culture and several collaborating agencies, the #WhatAreYouDoing campaign has involved the Multidisciplinary Evaluation of Sexual Assault Referral Centres for better Health (MESARCH) project team and other academics at Coventry University.
They have worked closely with Coventry Rape and Sexual Abuse Centre, Coventry City Council and Coventry Haven Women's Aid on the campaign, which aims to enhance public understanding about abuse in young people's relationships.
The centrepiece of the #WhatAreYouDoing campaign is a short film, created with Coventry-based video production company No Class, depicting an abusive relationship within a young couple and the role their friends play in calling out these behaviours and supporting the victim to get help.
Young people often do not identify with terms like domestic violence and abuse, but want support in understanding what is and is not okay in their relationships. They may also be unsure about how to manage boundaries around technology.
The aim of the campaign is to enable young people and others to recognise different guises of abuse and encourage them to reach out to agencies for advice and support.
The film contains themes of domestic violence and abuse which some viewers may find distressing.
The film is available to view here and includes a QR code directing viewers to support services available.
To find out more about the #WhatAreYouDoing campaign follow @WhatAreY0uD0ing on Twitter or visit the campaign website.
Participating Organisations
As a result of the extremely hard work and commitment of our project team, SARCs and third sector staff and agencies across England we have been able to recruit 337 participants into the MESARCH study. We would like to thank all the SARCs and ISVA services that participated in the study. 
The Blue Sky Centre
www.blueskycentre.org.uk / 0800 970 0370
Oakwood Place
www.oakwoodplace.org.uk / 01277 240620
Swindon and Wiltshire SARC
www.firstlight.org.uk / 01793 781916
Hope House
www.hopehousesarc.nhs.uk / 0300 4218400
Northumbria SARC
www.resachsarc.org.uk / 03333448283
Horizon
www.horizonsarc.org.uk / 0800 970 0375
The Saturn Centre
www.saturncentre.org.uk / 0800 0337797
The Bridge
www.thebridgecanhelp.org.uk / 0117 342 6999
The Herts SARC
www.hertssarc.org /  0808 178 4448
The Elms
www.theelmssarc.org / 0800 1935434
The Glade
www.theglade.org.uk / 0800 9709377
SARC Teesside
www.sarcteesside.co.uk / 03333 44 8283
The Harbour Centre
www.theharbourcentre.co.uk / 01603 276381
Treetops
www.solent.nhs.uk/sarc / 0300 123 6616
Juniper Lodge
www.juniperlodge.org.uk / 0116 2733330
Coventry Rape and Sexual Assault Centre (CRASAC)
www.crasac.org.uk / 02476 277777
Rape or Sexual Abuse Support (RoSa)
www.rosasupport.org / 01788 551151
Safeline
www.safeline.org.uk / 01926 402498
Safelink
www.safelinksupport.co.uk / 0333 3231543
Black Country Women ' s Aid
www.blackcountrywomensaid.co.uk / 0121 5530090
Gloucestershire Rape and Sexual Abuse Centre (GRASAC)
www.glosrasac.org / 01452 526770
Umbrella
www.umbrellahealth.co.uk / 0121 2375700
Rape Crisis Tyneside and Northumberland
www.rctn.org.uk / 0800 0352794
Centre for Action on Rape and Abuse (CARA)
www.caraessex.org.uk / 01206 769795
South Essex Rape and Incest Crisis Centre (SERICC)
www.sericc.org.uk / 01375 380609
South End on Sea Rape Crisis (SOSRC)
www.sosrc.org / 01702 667590
Arch North East
www.archnortheast.org / 01642 822331
Cambridge Rape Crisis
www.cambridgerapecrisis.org.uk / 01223 245888
Peterborough Rape Crisis
www.prccg.org.uk / 01733 852578
West Midlands Rape and Sexual Abuse Support Centre
www.wmrsasc.org.uk / 01905 724514
WORTH (WSCC)
0330 2228181
Yellow Door
www.yellowdoor.org.uk / 02380 636313
Axis Counselling
www.axiscounselling.org.uk / 01743 357777
Free from Violence and Abuse (FreeVA)
www.freeva.org.uk / 0808 8020028